Development and evaluation of new generation vaccines against bovine respiratory syncytial virus
Krister Blodörn. Doctoral thesis. Swedish University of Agricultural Sciences (SLU).
Acta Universitatis agriculturae Sueciae, 1652-6880 ; 2015:7
ISBN 978-91-576-8212-3
eISBN 978-91-576-8213-0
Read at SLU…

My doctoral thesis consists of four papers: paper I, paper II, paper III and paper IV.
Abstract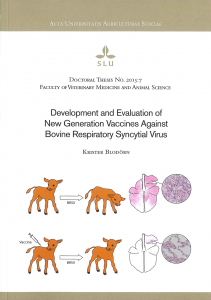 Bovine respiratory syncytial virus (BRSV) is a major cause of respiratory disease in cattle worldwide. Improved BRSV vaccines are needed, with better efficacy and longer duration of protection, in particular when used in calves with specific maternally derived antibodies (MDA). New generation BRSV vaccines should also be DIVA compliant, and thus allow continued seromonitoring in vaccinated herds, including continuous evaluation of vaccine safety and efficacy. In this thesis work, classic BRSV immunostimulating complexes (BRSV-ISCOMs) were shown to overcome inhibition by specific MDA, and induce a high level of protection, probably mediated by strong humoral and Th1 type T cell responses. Characterization of proteins in BRSV-ISCOMs was performed to facilitate future standardization or improvement of BRSV-ISCOMs, and to serve as a basis to design efficient subunit vaccines (SU). SU consisted of recombinant human RSV (HRSV) proteins P, M2-1 and N nanorings with epitopes from BRSV proteins F and G. Three DIVA-compatible vaccines, all omitting the SH protein, were evaluated: two vaccines formulated using SU, adjuvanted by either Montanide ISA71VG (SUMont) or AbISCO-300 (SUAbis); and ΔSHrBRSV, a live recombinant BRSV with deleted SH gene. The safety, immunogenicity and protective efficacy of SUMont, SUAbis and ΔSHrBRSV were compared in calves with specific MDA in a BRSV infection model with high clinical expression, which was also developed in this thesis work. Both ΔSHrBRSV and SUMont induced protection against BRSV infection, seemingly by activating different immunological pathways. ΔSHrBRSV induced almost complete clinical and virological protection, which appeared to rely mainly on mucosal IgA and systemic neutralizing antibodies directed against viral surface proteins, and T cell priming in the airways. SUMont induced a good level of protection, which appeared to be mediated by HRSV/BRSV cross-reactive specific T cells. SUAbis induced limited protection from BRSV challenge. The three vaccines BRSV-ISCOMs, ΔSHrBRSV and SUMont, individually identified as promising vaccine candidates, are described and discussed in this thesis, including possibilities to improve their immunogenicity and protective efficacy, and to further investigate induced immunity and DIVA compliancy.