Paper IV of IV in my doctoral thesis:
Vaccine Safety and Efficacy Evaluation of a Recombinant Bovine Respiratory Syncytial Virus (BRSV) with Deletion of the SH Gene and Subunit Vaccines Based On Recombinant Human RSV Proteins: N-nanorings, P and M2-1, in Calves with Maternal Antibodies
Krister Blodörn, Sara Hägglund, Jenna Fix, Catherine Dubuquoy, Boby Makabi-Panzu, Michelle Thom, Per Karlsson, Jean-Louis Roque, Erika Karlstam, John Pringle, Jean-François Eléouët, Sabine Riffault, Geraldine Taylor, Jean François Valarcher
PLoS ONE 06/2014; 9(6):e100392. DOI:10.1371/journal.pone.0100392
Abstract
The development of safe and effective vaccines against both bovine and human respiratory syncytial viruses (BRSV, HRSV) to be used in the presence of RSV-specific maternally-derived antibodies (MDA) remains a high priority in human and veterinary medicine. Herein, we present safety and efficacy results from a virulent BRSV challenge of calves with MDA, which were immunized with one of three vaccine candidates that allow serological differentiation of infected from vaccinated animals (DIVA): an SH gene-deleted recombinant BRSV (ΔSHrBRSV), and two subunit (SU) formulations based on HRSV-P, -M2-1, and -N recombinant proteins displaying BRSV-F and -G epitopes, adjuvanted by either oil emulsion (Montanide ISA71VG, SUMont) or immunostimulating complex matrices (AbISCO-300, SUAbis). Whereas all control animals developed severe respiratory disease and shed high levels of virus following BRSV challenge, ΔSHrBRSV-immunized calves demonstrated almost complete clinical and virological protection five weeks after a single intranasal vaccination. Although mucosal vaccination with ΔSHrBRSV failed to induce a detectable immunological response, there was a rapid and strong anamnestic mucosal BRSV-specific IgA, virus neutralizing antibody and local T cell response following challenge with virulent BRSV. Calves immunized twice intramuscularly, three weeks apart with SUMont were also well protected two weeks after boost. The protection was not as pronounced as that in ΔSHrBRSV-immunized animals, but superior to those immunized twice subcutaneously three weeks apart with SUAbis. Antibody responses induced by the subunit vaccines were non-neutralizing and not directed against BRSV F or G proteins. When formulated as SUMont but not as SUAbis, the HRSV N, P and M2-1 proteins induced strong systemic cross-protective cell-mediated immune responses detectable already after priming. ΔSHrBRSV and SUMont are two promising DIVA-compatible vaccines, apparently inducing protection by different immune responses that were influenced by vaccine-composition, immunization route and regimen.

Excerpt from my doctoral defense presentation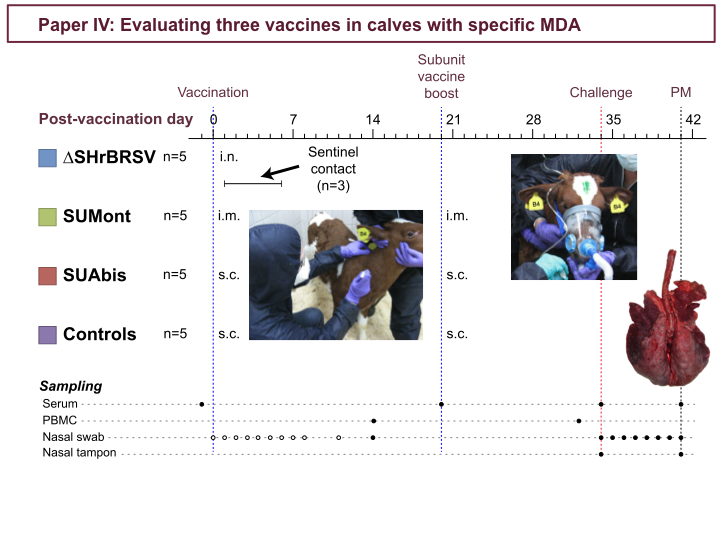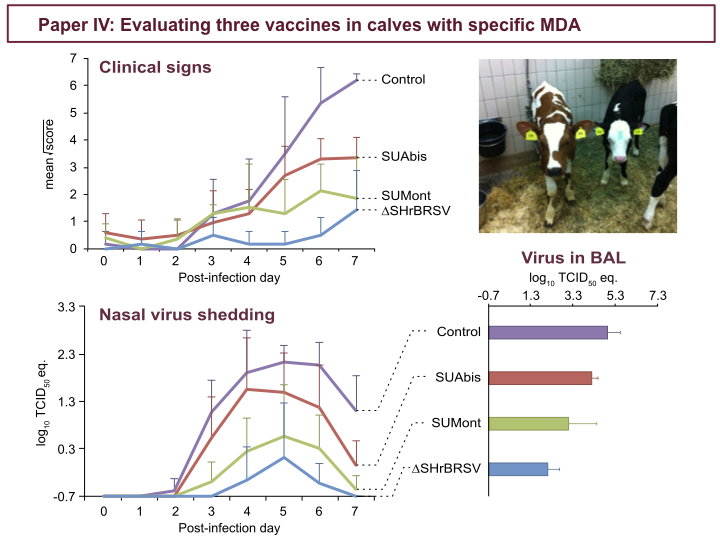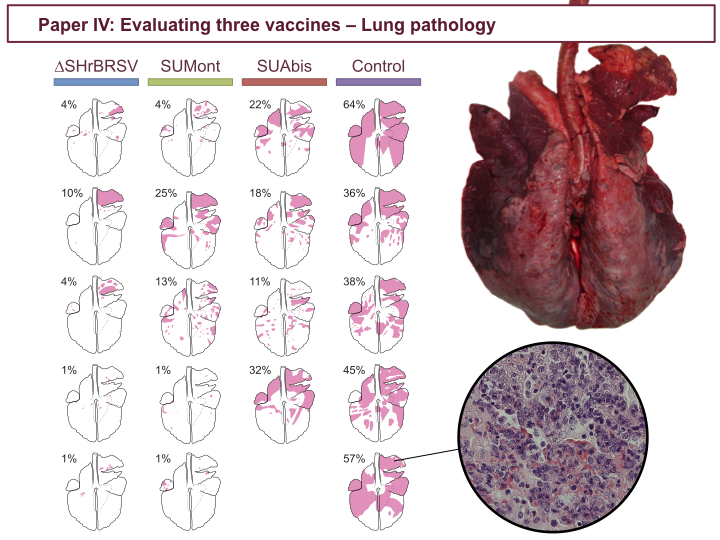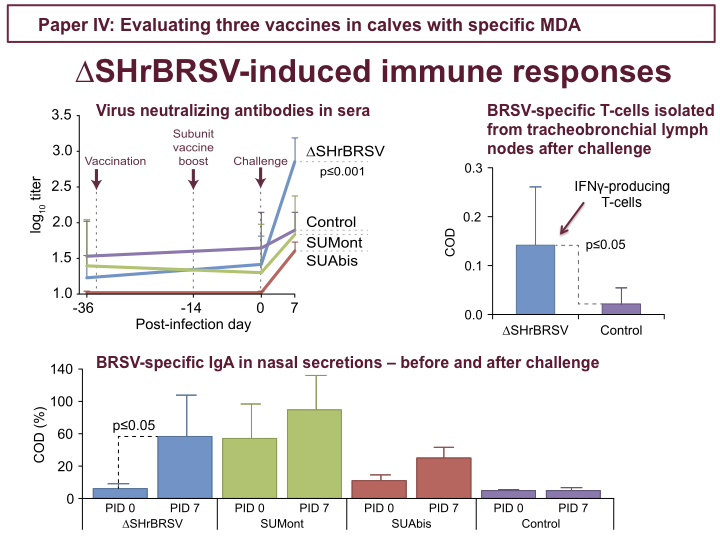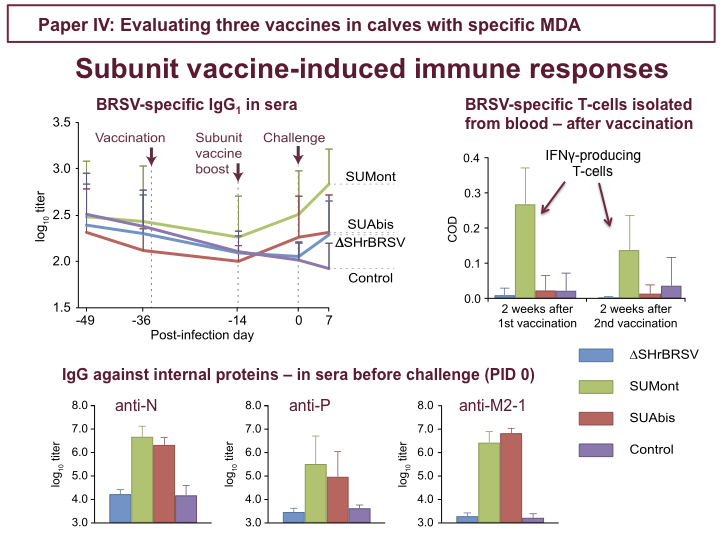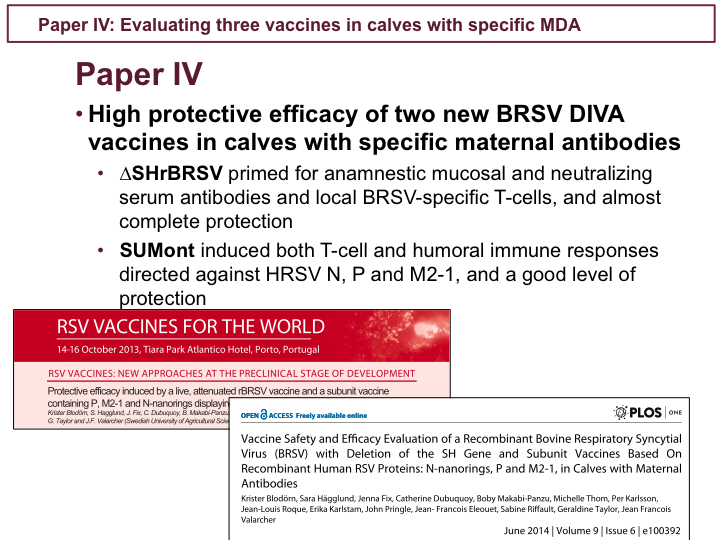 I presented these findings at the RSV Vaccines for the World conference in Portugal in 2013, and they were later published in PLoS ONE.