A bovine respiratory syncytial virus model with high clinical expression in calves with specific passive immunity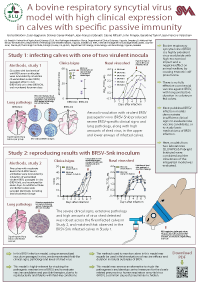 Krister Blodörna; Sara Hägglunda; Dolores Gavier Widenb; Jean-Francois Eléouëtc; Sabine Riffaultc; John Pringlea; Geraldine Taylord; and Jean-Francois Valarcherea
a Swedish University of Agricultural Sciences, Host Pathogen Interaction Group, Department of Clinical Sciences, Uppsala, Sweden b National Veterinary Institute, Department of Pathology and Wildlife Diseases, Uppsala, Sweden c INRA, Unité de Virologie et Immunologie Moléculaires, Jouy-en-Josas, France d The Pirbright Institute, Pirbright, Surrey, UK e National Veterinary Institute, Department of Virology, Immunology, and Parasitology, Uppsala, Sweden
Abstract
Despite extensive research on bovine respiratory syncytial virus (BRSV) we have yet to see a fully effective commercial vaccine with long protective duration in young calves with specific passive immunity. BRSV is a highly prevalent virus worldwide with high economical impact and a negative effect on animal welfare, by causing enzootic calf pneumonia. Young, colostrum fed calves in endemic areas are partially protected from clinical disease by maternally derived antibodies, but these also have a negative effect on vaccine efficacy and protective duration.
Benchmarking of commercial and candidate vaccines can be done in the field, but new candidate vaccines must first be evaluated in a controlled experimental setting. However, most published BRSV infection models demonstrate insufficient clinical signs to establish any significant clinical effects of immunization. Furthermore, to study basic mechanisms of BRSV infection, the full range of field-like clinical signs, viral replication and pathological changes need to be obvious in the model.
In the present study, models from two laboratories were integrated and the robustness of the integrated model was evaluated. In a leading study, six calves with low levels of anti-BRSV serum antibodies were inoculated by inhalation of aerosolized virulent BRSV, passaged either in vivo or in vitro, and monitored for seven days. Then, an additional five calves with moderate levels of specific passive immunity were challenged using the inoculum with most severe clinical expression in the first study.
In both studies, all calves developed specific clinical signs of field-like BRSV infection, and shed high amounts of virus, in both the upper and lower respiratory tract, which was consistent with gross and histological pathology. In vivo passage tended to potentiate the inoculum. In the leading study, the oldest calf rapidly seroconverted after challenge, indicating previous exposure, despite low and declining levels of specific serum antibodies prior to challenge. In the herd of origin, a preceding natural infection was confirmed after seroconversions were detected in young stock and adults.
The clinical, pathological and virological fidelity of this BRSV model, compared to natural infection, makes this a highly relevant and reproducible model to study the pathogenic mechanisms of BRSV, and to evaluate vaccine candidates and possible therapies. Furthermore, the tools described herein to evaluate infection may equally be used in the field to evaluate vaccine efficacy and duration in natural outbreaks of BRSV. Finally, this model may serve as an alternative to study the pathogenesis and develop control measures for the closely related pneumovirus human respiratory syncytial virus (HRSV), a common cause of pneumonia in children.